When you place your property in the hands of Robert Dean from Dean Property Team, you are appointing a team of the highest calibre and performance.
Email Robert robert@deanpropertyteam.com.au
Phone 0439 431 507
WhatsApp 0439 431 507
As leaders in the sales and marketing arena with a host of awards and recognition from their peers in the industry, you will soon come to respect his professional skills when Robert concludes business on your behalf.
In his early years Robert watched and later helped his father run and manage his real estate agency in Townsville, one which John Dean owned for some 25 years. It was at this time that Robert understood the importance of integrity, communication, and dedication in business. These characteristics will clearly be seen when you meet Robert.
Robert was appointed to the RE/MAX international network in 2007 after a successful career in journalism with the Channel 7 Network. Realising he wanted to follow in his father's footsteps, Robert showed the courage of his convictions, and made his move into real estate in 1992. Robert experienced 14 years of selling land and new homes for developers in Brisbane's inner suburbs, and since 1997, was based in Sinnamon Park's prestigious Windermere Estate selling home sites and home packages built by Brisbane's leading builders.
Married to his late wife for over 33 years, Robert is extremely proud of his children as they find their path in life. His eldest son Elliott earned his Bachelor in Business Management at UQ majoring in Real Estate, and is now the Director of Dean Property Team. Daughter Claudia was based in London, and is now a renowned Ballet Coach here is Australia, after retiring as a professional artist with the Royal Ballet, and his youngest daughter, Simona, has finished school and helps Claudia with her Ballet business.
Awards: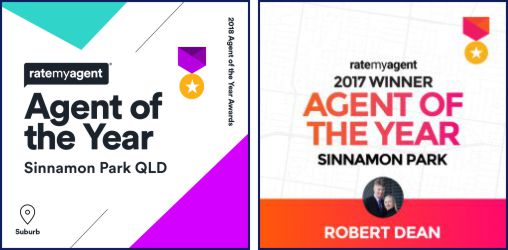 2018 – RateMyAgent Winner Agent of the Year Sinnamon Park
2017 – RateMyAgent Winner Agent of the Year Sinnamon Park
2015 – RE/MAX Platinum Award
2014 – RE/MAX Platinum Award
2013 – RE/MAX Gold Award
2012 – RE/MAX Platinum Award
2011 – RE/MAX Platinum Award
2011 – RE/MAX Hall of Fame Induction
2010 – RE/MAX Platinum Award
2009 – RE/MAX Platinum Award
2008 – RE/MAX Gold Award
2007 – RE/MAX Platinum Award
Listings
This is like your own unique mini acreage in the...
UNDER CONTRACT/ UNDER OFFER